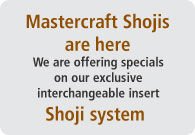 Contact Information
If you have any questions comments or concerns. please feel free to contact us:
Toll Free: 1- 888-779-7731
Telephone: (905) 660-1127
FAX: (905) 660-9656
info@amazingwindowfashions.com
Interior Mastercraft hand crafted wood shutters
Mastercraft Shutters offers the finest quality in hand made wood shutters.
We have been in business hand crafting shutters for over 22 years. Our hand made line is backed with an unconditional lifetime warranty. You will not only get a completely custom elegant look for any room you will be backed by the assurance that it will last a lifetime. Unlike inferior quality shutters our wood shutters will not warp or fade.
We can provide shutters for special projects like commercial applications, oversized louvers, specialty woods, specialty shapes, folding pocket doors, stained and beveled glass inserts and much more.
We use only the finest kiln dried select woods for our shutters and look forward to becoming an elegant energy saving investment to improve your home.
Please fill out the form below to receive a quote. The information requested is only used for providing you with a quote and is not shared in any way all quotes are made by people and not computer generated.