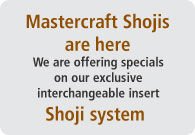 Contact Information
If you have any questions comments or concerns. please feel free to contact us:
Toll Free: 1- 888-779-7731
Telephone: (905) 660-1127
FAX: (905) 660-9656
info@amazingwindowfashions.com
Interior Aluminum Shutters
Bold, bright and beautiful, Aluminelle Aluminum Shutters are clearly state-of-the-art. They draw inspiration from the modern design movement and combine clean, crisp lines with the structural strength and durability of aluminum.
Key Features
Aluminelle Aluminum Shutters are manufacturerd from only the highest quality extruded aluminum and reinforced internally for exceptional structural strength.
Design Flexibility – Aluminum strength allows for longer-length panels without the need for a divider rail.
Two louver sizes – The popular 2 3/8" and 3 3/8", which are fashionably contoured to optimize your view.
Precision manufacturing – Equidistant computer positioned louvers create equal spacing between louvers.
Tradditional tilt-bar design that features patented cufflink connectors which are made of coloured injection molded Delrin nylon. This unique feature enables the louves to close tightly in both directions. Tilt-bar has two options - front hinge side or on the rear hinge side
Aluminelle shutters withstand extreme sunlight without warping, cracking and peeling, and improve the thermal efficiency of your windows.
Super Touch Finish – Painted or anodized finish with UV coating protects against ultraviolet rays and reflects solar heat.
Choice of colours – Available in antique white, anodized clear silver and anodized bronze finishes.
Hinges are available in the most popular colours, in both removable, fixed styles and wrap around.
Ideal for high moisture areas such as kitchens, bathrooms and saunas.
Specialty applications such as – Bi-Pass and Bi-Fold systems, Bay window, Café style, Double hung are available.
Frame Enhancements – Stunning over mount decorative frames blend with any application. Unique contour frames may be used for inside/outside mount openings to give a refined finished look.
Fire Rated – Will not support combustion
Warranty
Every custom shutter is covered by the Shade-O-Matic Limited Lifetime Warranty on Materials and Workmanship.
Care & Maintenance
Our smooth finish allows you to clean your shutters effortlessly with an ordinary mild-dish soap and water. To thoroughly clean the louvers, tilt them almost all the way down and wipe them off. Then tilt them almost all the way up and clean the other side. Not fully closing the louvers in either direction allows cleaning where the louvers overlap.