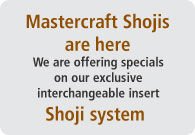 Contact Information
If you have any questions comments or concerns. please feel free to contact us:
Toll Free: 1- 888-779-7731
Telephone: (905) 660-1127
FAX: (905) 660-9656
info@amazingwindowfashions.com
FAQ
Why should I buy from Mastercraft Shutters?
We are experienced at making furniture quality shutters. For 22 years we have been offering an unconditional warranty for our produce. for over 22 years.
How much do your products cost?
Just browse through the site and fill out a form on the page of any product you are interested in. All of our quotes are done by actual people so we may offer you the most savings.
Which product is for me?
When making your window covering choices there are many things to think of, e.g. example climate, your sun exposure, Your inner decor and more. You can always e-mail us a picture of your interior and one of our sales staff would be happy to give you some free advice.
Do you offer motorization options?
Yes, we carry a full range of motorized products from shutters to blinds. Just read through the product information of the page containing the treatment you are interested in, it should specify there or you can e-mail us your questions.
I have casement windows. Will the crank handles interfere with my window coverings?
We recommend that you leave the crank handles on the window sill behind the product. When you want to open the window, simply insert the crank handle, open the window and remove it before closing the product.
What woods do you offer your Shutters and Shojis in?
The most common woods we use are select kiln dried Aamerican Yellow Poplar, and select kiln dried Basswood. We can produce in any wood such as Cherry, Mahogany, Pine, Oak, Teak anything you need to match your decor there is of course a surcharge on the value of the wood used.
Does wood warp and chip easily?
Our choice of a quality select kiln dried hardwoods, and excellent high-quality finishing assures our quality hardwood shutter will not warp, yellow or chip. Anyone telling you that wood cannot compare to other materials is either misinformed or just looking to get the sale.
Can I install the product myself?
All of our products come with instructions and we are always happy to help you by calling our toll free number.(1-800-608-8837)
What colors or stains are available?
We use a special lacquer based paint, import from Sweden. This paint provides a smooth seal on top of out three time primed wood. We can tint out paint to match any color. Our stain library is extensive and our experts can match almost any stain on our bass wood.
How do I measure my windows & doors?
Their are measuring instructions throughout the site on the various products we offer. You only need a rough measurement of width and height to get an idea of cost.
How do you place an order?
You can order some of our products online like some of our shutters. You can also order through e-mail, fax, phone or mail. We are here to help you.
What is delivery time?
All of our products have different lead times and some have express options. On average you are looking at 4 to 6 weeks for blinds shutters and shojis panels and 3 to 4 weeks on vinyl and aluminum.