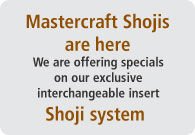 Contact Information
If you have any questions comments or concerns. please feel free to contact us:
Toll Free: 1- 888-779-7731
Telephone: (905) 660-1127
FAX: (905) 660-9656
info@amazingwindowfashions.com
Exterior Wood Shutters
Painted White Wood Louvered top Panel Bottom
Full wood Louvered
Wood, Stained panel
Wood painted Black, Panel, center divider
At Mastercraft Shutters we hand make the highest quality of exterior shutters using the finest select kiln dried pine and cedar. The shutters are finished off with leading edge sealants to ensure you get a maximum numbers of years use before a repaint is required.