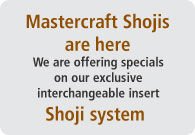 Contact Information
If you have any questions comments or concerns. please feel free to contact us:
Toll Free: 1- 888-779-7731
Telephone: (905) 660-1127
FAX: (905) 660-9656
info@amazingwindowfashions.com
About Us

Mastercraft Shutters is a family owned and operated business and has been proudly serving the public for over 22 years. We carry a complete line of window coverings and hand craft our own custom wood shutters and shojis ensuring that we can provide our clients with the best possible solution to any window covering need.
We are committed to complete customer satisfaction. We provide window coverings from companies that reflect our own posture. Companies that deliver quality and value backed by credible warranties. Our handmade wood shutters and Shojis come with a lifetime guarantee. Quality is paramount at Mastercraft Shutters and our shutters are renowned for their furniture finish. We use a specialized paint known for its non-yellowing properties and we can match any colour or stain.