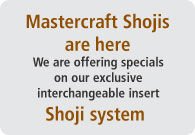 Contact Information
If you have any questions comments or concerns. please feel free to contact us:
Toll Free: 1- 888-779-7731
Telephone: (905) 660-1127
FAX: (905) 660-9656
info@amazingwindowfashions.com
Shoji
MasterCraft Shoji Panel Tracks

Available in a full range of woods from our excellent quality select kiln dried poplar and basswood to specialty woods like cherry, oak and mahogany.
Removable valances makes maintenance a breeze. Now you can remove the valance in seconds and access the hardware for adjustment.
Interchangeable inserts offer an endless cost effective way to change your future decor needs.
Whether you are looking to add possibility to an open concept living space or want to add a touch of the orient Mastercraft shojis offer endless options to match any decor. Mastercraft has bean making quality hand made wood shutters for over 22 years now and have used their skill and knowledge to improve on this timeless classic by making them more durable and backing all inserts with acrylic. Mastercraft has developed an exclusive interchangeable insert option this allows you to easily service any damage and the ability to change your inserts to match your future changing decor.
Mastercraft manufacturers the Shoji line out of our headquarters, based in Toronto Ontario. We offer fast turnarounds and back the shoji framing and select inserts with our lifetime guarantee.
Shoji Panel tracks, Shoji screens, room dividers, hand made mulberry paper.