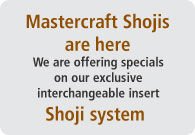 Contact Information
If you have any questions comments or concerns. please feel free to contact us:
Toll Free: 1- 888-779-7731
Telephone: (905) 660-1127
FAX: (905) 660-9656
info@amazingwindowfashions.com
Welcome
Manufacturers the highest quality of custom wood shutters in every size shape and color imaginable, for any application, interior or exterior. We carry a complete line of window coverings from all leading blind manufacturers including vinyl shutters. We also offer custom made stained or beveled glass insert.
At Mastercraft shutters Shutters we offer window coverings to fit any budget or taste, while maintaining our commitments to quality and service.
We are a family owned business serving the public for over 24 years. We pride ourselves on our commitment to value, craftsmanship and superior service. In the world of design Mastercraft Shutters is the preferred choice of architects, designers and decorators. Our extra attention to detail and service assures that purchasing your window coverings will be a pleasurable experience from discussing options with our experienced sales staff to having your window coverings professionally installed.
Mastercraft Shutters will provide you with outstanding service and craftsmanship ensuring complete customer satisfaction. We carry Shutters, Shojis, Blinds, Stained and Beveled glass, Awnings and more.
Shutters, Shoji blinds and more.
Whether you are looking for Plantation Shutters, Californian shutters or something for that DIY project. Mastercraft Shutters from residential to commercial applications. We offer online shopping for some of our products and are adding more all the time.